Welcome to the NEW Robertson County Sheriff's Office Website!!
Welcome to the Robertson County Sheriff's Office official website. This custom website is a continuation of our progressive efforts to better serve our citizens.
I have to admit that operating and maintaining this website is a new learning experience for us. We will do our best to make sure it contains the latest public information for you.
The Robertson County Sheriff's Office is as committed to the public we serve as we are committed to working with all law enforcement agencies including State, County, and Municipal governments.
I encourage you to Sign Up For Alerts to receive up-to-date public information (i.e. traffic accidents/delays, road conditions, storm warning, crime broadcasts, etc.). When you sign up for alerts you will have the option of choosing the method that you prefer your alert to be sent either via text message, email or both: http://robertsoncountysherifftx.org/alerts_signup.php.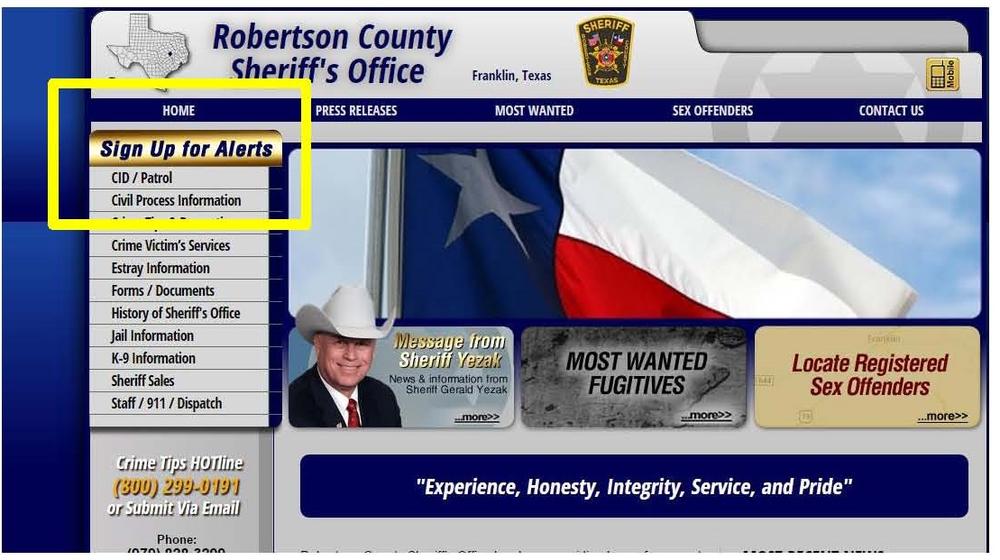 So browse freely. This new website is here for your benefit. All comments and suggestions you may have are welcome, just send us an email. info@robertsoncountysherifftx.org
Gerald Yezak, Sheriff
Robertson County, Texas