Crime Victim's Services
What happens to victims of crime after they make a report?
In Robertson County, we have a Crime Victim Liaison available to educate and assist them in their journey.

Texas requires all law enforcement agencies to have a Liaison to assist and work with crime victims. In 2007, Robertson County received a grant from the Office of the Attorney General to operate this program part-time. In 2009, the program was funded full-time by the grant and later by the county.

The goal of the Victim Assistance Program is to:
assist victims of crime
protect and advocate the rights of victims
provide necessary information
prevent further victimization
Crime victims who make a report are subsequently contacted by phone, mail or in person. The liaison will inform victims about procedures, community resources, and available programs that will assist victims during the aftermath of a crime. The liaison is also on call to respond to after-hour emergencies, and to provide assistance.

Oftentimes, crime victims want to know what will happen next, and the liaison is available to answer those questions. She can provide case status, information about the criminal justice system, court and hospital accompaniment, and emergency transportation to women shelters or other safe locations.

Depending on the type of crime that has occurred, victims can receive information on shelters, counseling services or referrals to support and social service agencies. The liaison can also assist with information about parole notification and assist with a parole protest.

The liaison may also contact crime victims to determine their eligibility for financial assistance from Crime Victim's Compensation and assist in completing the application process. The Crime Victims' Compensation Fund - paid out of court costs generated by criminal convictions - provides for medical bills, counseling, lost wages, funeral expenses and other crime related expenses without any cost to taxpayers.
---
---
So WHO is Robertson County Sheriff's Office's
Crime Victim's Liaison?
Please meet Christina Sechelski. Christina has been a part of Robertson County Sheriff's Office since March 2019.
Chris works closely with the Office of the Attorney General and local law enforcement over to maintain a system by which she is able to assist law enforcement and serve many victims of crime that otherwise would likely receive little or no services simply because of the overwhelming number of victims that law enforcement encounter.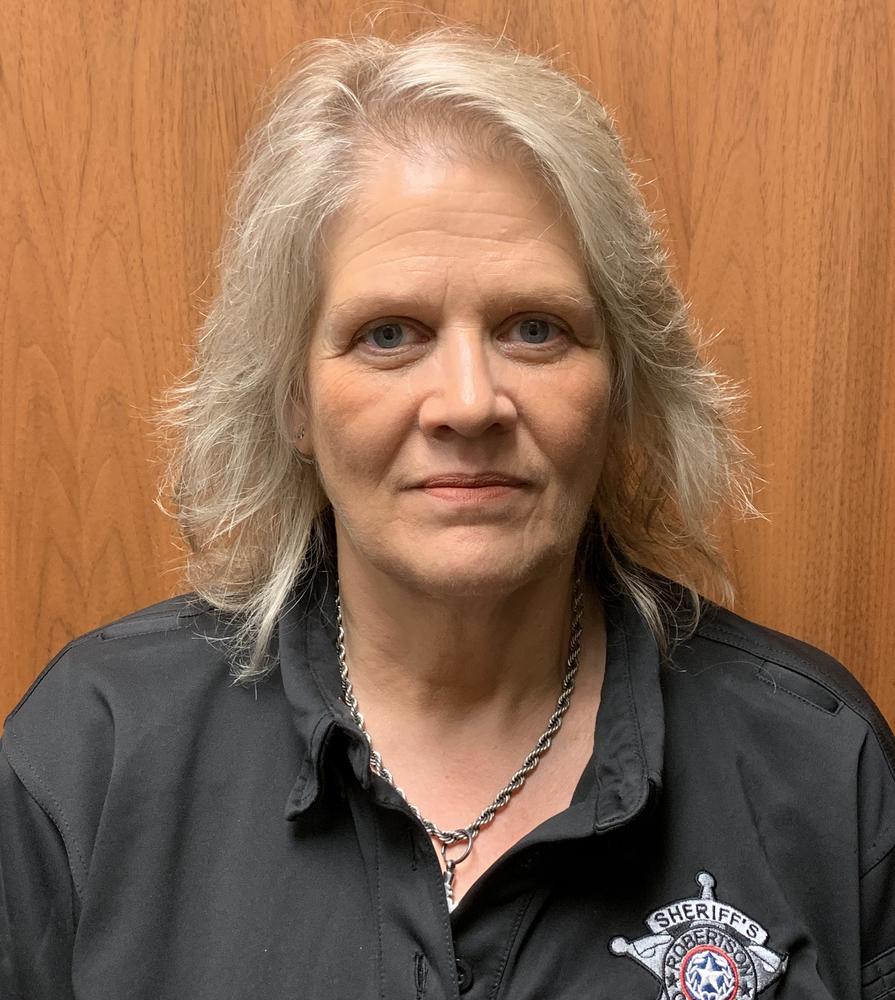 Christina "Chris" Sechelski

Office – 979.828.3299
Direct line - 979.828.6671
Email - chriss@sheriff.co.robertson.tx.us
---
---
Resources
***Please note the RESOURCES listed below are intended as reference only. No one organization is specifically endorced by Robertson County Sheriff's Office or its staff. You are responsible for any and all agreements made with any of the resources that you make contact with.
---
---
FORMS
Crime Victims Compensation Application.pdf
Travel Appointment Verifcation Log.pdf
Franklin Housing Authority Application 082018.pdf
---
---
EMERGENCY DIAL 911
Assistance Resources DIAL 211
Anger Management
Milam County Community Supervision - 254.697.0722 - Ask for Marlene Spytma
The Center for Cognitive Education, LLC 210.288.0117
RECOVERY
Al-Anon - http://bvig.org/al-anon%20meetings.htm
Alcoholics Anonymous - http://bvig.org/
BVCASA - 979.846.3560 - http://bvcasa.org/programs/screenings/
Celebrate Recovery - http://www.crecovery.org/
Narcotics Anonymous - 979.822.9094 - http://bvana.org/
Grace House - 903.887.5429 (WOMEN)
House of Hope - 936.245.2896 (MEN)
Crosscentral Recovery Center - 979.589.1323 (MEN)
Start Your Recovery - https://startyourrecovery.org/
Alcohol Help - https://www.alcoholhelp.com/treatment/
Batterer Intervention
The Center for Cognitive Education, LLC 210.288.0117
Bereavement
Compassionate Friends - http://www.compassionatefriends.org
Hospice Brazos Valley - 979.821.2266
http://www.hospicebrazosvalley.org/hospice/services/bereavement.html
Mending Hearts Grief Center 979.704-6406
http://www.mendingheartsgriefcenter.org/
Clothing
Call For Help Hearne – Open every Monday morning
Franklin United Methodist Clothes Closet Franklin - Open every Friday & Saturday
Community Clothes Closet; 418 North Bryan, Bryan Tx
Open M-W-F 8-12 ***You will need an ID when you go!
Counseling/Mental Health
M.H.M.R. - 979.279.5193
NAMI-BV 979.774.4713 https://namibv.org/
STAR Counseling - 979.279.5232 - http://www.twincitymission.org/star.shtml
Twin City Mission Domestic Violence Services - 979.775.2255 - http://www.twincitymission.org/phoebeshome.shtml
The Center for Cognitive Education, LLC 210.288.0117
Crime Scene Clean-up
Aftermath - 800.366.9923 - http://www.aftermath.com
Brazos Cleaning & Restoration - 979.823.1614 - http://www.brazoscleaningrestoration.com
Crime Scene Clean-up - 800.295.5460 - http://www.crimesceneclean-up.com
Total Decon Inc. - 888-411-3266 - www.totaldecon.com
(For additional information on these services please contact Christina "Chris" Sechelski 979-828-6671)
Crime Stoppers
Robertson County Crime Stoppers - 800.299.0191- http://www.robertsoncountycrimestoppers.com
Crime Victim Services
Crime Victim's Compensation - 800-983-9933
https://www.texasattorneygeneral.gov/victims/about_comp.shtml
Mothers Against Drunk Driving - 877-623-3435 - http://www.madd.org
TDCJ Victim Services - 800.848.4284 - http://www.tdcj.state.tx.us/divisions/vs/
Crisis Pregnancy
Aggieland Pregnancy Outreach - 979.764.6636 - http://www.pregnancyoutreach.org
Care Net of Central Texas - 254.772.8270 - http://www.carenetofcentraltexas.org/
Hope Pregnancy Center - 979.695.9193 - http://www.hopepregnancy.org
Prenatal Clinic - 979.595.1780
Disaster
American Red Cross-Bryan - 979.776.8279 - http://redcross.org/bryan
American Red Cross-Waco - 254.523.4985 - http://www.redcross.org/tx/waco
Emergency Rooms
College Station Medical Center - 979.764.5111
Physician's Center - 979.731.3180
St. Joseph's Regional Health Center - 979.776.2471
Scott & White Hospital (College Station) - 979.207.2100
Employment/Job Training
Christian Women's Job Corp - 979.218.5283
Texas Workforce Commission - http://www.twc.state.tx.us/
Gary Job Corp - 512.396.6652 https://gary.jobcorps.gov/
Family Violence
Meyer Domestic Violence Center - 800.283.8401 - http://www.familyabusecenter.org/
National Domestic Violence Hotline - 800.779.7233 - http://www.thehotline.org/
Twin City Mission Domestic Violence Services - 979.775.2255
http://www.twincitymission.org/phoebeshome.shtml
Financial Assistance
Child Support Enforcement of Texas - 800.252.8014
https://www.texasattorneygeneral.gov/victims/about_comp.shtml
Food/Nutrition
Franklin Food Pantry Franklin - Open Saturday morning 9:00-11:30
Garrett Grove Missionary Baptist Church Calvert - Open 2nd Friday of the month - 10:00 - 1:00
Help for All Hearne – Open every Monday morning
Progressive Missionary Baptist Church Hearne – Open 2nd & 4th Wednesday 1:00 -3:00
Healthcare
AIDS Services - 979.260-2437
Health For All, Inc. - 979.823-1466
Salvation Army (Rx) - 979.779.3470
St. Vincent de Paul Society (Rx) - 979.775.2273
Health Point - http://www.healthpoint-tx.com/
Housing
Brazos Valley Affordable Housing - 979.595.2800
Housing Choice Voucher Program - 979.595.2803
Franklin Housing Authority - 979.828.5246
Hearne Housing Authority - 979.279.3221
Bremond Housing Authority - 254.746.7260
Calvert Housing Authority - 979.364.2844
Bremond St. Apts - 979.823.5571
Twin Oaks Apts - 254.746.7759
Rosemarie Arm - 979.279.2220
Columbus Village - 979.279.3473
Jail/Custody Status
Block Jail Phone Calls 800.682.0707
Victim Information & Notification Everyday (VINE) - 877.894.8463 - http://www.vinelink.com
Legal Assistance
Lone Star Legal Aid - 979.775.5050 - http://www.lonestarlegal.org/bryan.pl
Texas Advocacy Project - 512.476.5386 http://www.texasadvocacyproject.org/
Missing/Runaway
National Runaway Switchboard - 800.621.4000
Protective Services
Child/Elder Abuse Hotline - 800.252.5400 - https://www.txabusehotline.org/Login/Default.aspx
Rent/Utilities
BVCAA Comprehensive Energy Assistance - 979.779.0291
Salvation Army - 979.779.3470
St. Vincent de Paul Society - 979.775.2273
Senior Services
Area Agency on Aging (BVCOG) - 979.295.2800
Calvert Senior Center - 979.364.2004
Elder Aid (BVCAA) - 979.779.9285
Meals-on-Wheels - 979.822.3684
RSVP (Retired Senior Volunteer Program) - 979.595.2800
Sexual Assault
RAINN (Rape, Abuse, Incest National Network) - 800-656-4673 - https://www.rainn.org/
Sexual Assault Resource Center - 979.731.1000 - http://www.sarcbv.org
Shelter/Temporary
Meyer Domestic Violence Center - 800-283-8401 - http://www.familyabusecenter.org/
Phoebe's Home - 979.775.5355 - http://www.twincitymission.org/phoebeshome.shtml
The Bridge - 979.822.1492 - http://www.twincitymission.org/bridge.shtml
Social Services
Deptartment of Human Services-Hearne - 979.279.3446
Suicide
National Suicide Prevention Lifeline - 800-273-8255 - http://www.suicidepreventionlifeline.org/
Transportation
Brazos Transit - 979.778.4480 - http://www.btd.org/
Veterans
Mental health resources
https://maketheconnection.net/
Youth Services
Boys & Girls Club of Robertson Co. - 979.279.9900 - http://www.rcbgc.com/
Project Unity - 979.775.6788 (Parenting classes)
STAR Counseling - 979.279.5232 - http://www.twincitymission.org/star.shtml